Chain link temporary fence panels are also called mobile fence mesh, temporary police. Our temporary chain link fence is reached Australian standard, which all are hot-dipped galvanized.
They are popular in Australia, America, England, Africa market…
 specifications
Chain Link Fence Specs
Wire dia
13-12Guage(2.4–2.7mm)
12-11Guage(2.7–2.9mm
11Guage (3.0mm)
Opening
50*50mm; 60*60mm; 75*75mm
Application
Economy
Standard residential
Light commercial
Coating
Galvanized before weaving
Galvanized before coating
200g/m2
Frame Pipes
50*50mm; 60*60mm; 75*75mm
Height
1.8m, 2.1m
Width
2.1m, 2.4m, 2.5m, 2.9m
chain link temporary fence panels Details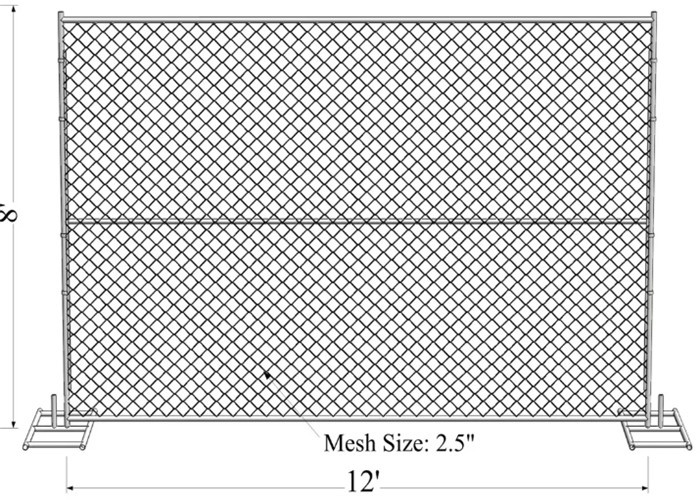 A.chain link temporary fence panels Constructed of high strength tubular galvanized tubing. Temp Fence Panels size is 12′ wide x 6′ tall. Panels are filled with galvanized chain link mesh and wrapped on all four sides to ensure longevity and ease of loading and unloading when moving from one project to the next.
B.Stands; Panels stands are perfect for any ground. They are broad instances to ensure stability while lightweight and designed to stack when transporting from and to the job site.
C.Fastenings; The panels and posts are jointed with bolts or rivets, using the flat steel bar or special steel clamps; all

nuts are self-locking. This also can be designed as the particular client's requests.
 temporary fence panels Advantage
Easy installation or maintenance replacement
It can be easily relocated.
Minimum repair required only damaged panels to be replaced
Standard/custom modular sizes
Applications
Construction sites and private property
 Residential housing sites and schools
For major public events, sports, concerts, festivals, gatherings, Sports playgrounds or swimming pools.
 Traffic control and crowd control.
Chain Link Temporary Fence Panels -Chain Link Fabric Infilled Mesh

Wire Diameter(mm)
Mesh Size(mm)
Roll Length(m)
Net Heights (mm)
Post Heights(mm)
1
5×5

10

500
1000
1000
1500
1.2
10×10
1250
2000
20×20
1500
2000
1.4
20×20
2000
2500
1.8
30×30
2500
3000
2.5
40×40
3000
3500
2.8
50×50
4000
4500
3.0
50×50
5000
5500
4.0
60×60
5000
5500
Packages 
1. it has a rubber mat at the bottom of the pallet to avoid the pallet destroying the panels.
2. it has 4 metal corners to keep the pallet more strong.
3. it has a metal plate under the plastic bandage to reduce the pressure of fence panels.
4. wooden plate on top which can protect the fence panels avoid being crushed by other pallets