premade chain link fence panels also called portable fence, is convenient both in installation and movement. You can see temporary fence everywhere in construction sites, temporary protection, major sports events or activities, temporary isolation, quarantine station in the airport, large playgrounds and so on. Temporary fences can be divided into two types from the technological point of view: 1. Welded mesh temporary fence 2. Woven mesh temporary fence.  chain link fence panels are widely used by contractors, construction companies, and special event organizers. This temporary fence product is a quick and easy option for a construction site, an outdoor sporting event, or an arts festival. Portable chain link fence panels are sturdy but can easily be placed or moved and reconfigured into different shapes.
Pictures of the fence in detail: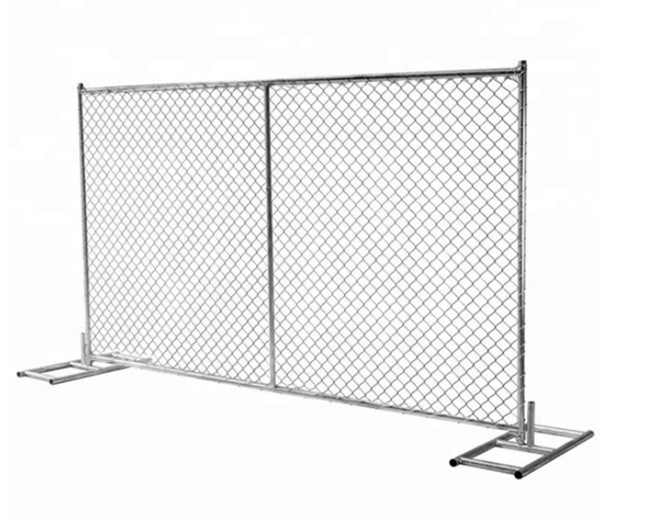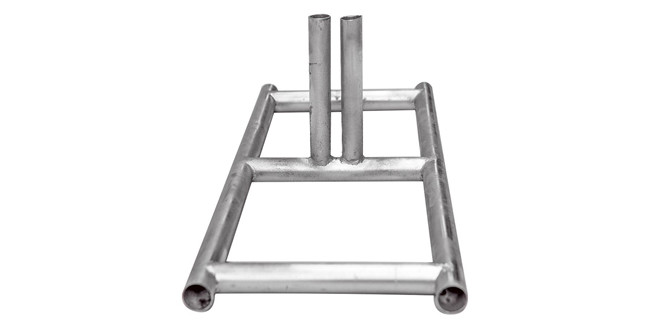 Specification premade chain link fence panels
Chain Link Panel Temporary Fence Specification

Fence panel height

4ft, 6ft, 8ft

Fence panel width/length

10ft, 12ft, 14ft, etc

Wire diameter

2.7mm (11.5 gauge), 2.5mm, 3mm

Chain link mesh size

57x57mm (2-1/4″), 50x50mm, 60x60mm, etc.

Frame tube O.D

33.4mm (1-3/8″), 32mm, or 42mm (1-5/8″) with 0.065″ wall thickness

Vertical/Cross tube O.D

25mm or 32mm with 1.6mm (0.065″) wall thickness

Fence base/stand

610x590mm (24" x 23"), 762x460mm (30" x 18"), etc

Accessory

Clamp, extra brace (diagonal brace)

Material

Hot dipped galvanized steel

Surface treatment

All joints are welded and sprayed with

galvanized paint

to cover any exposed metal.
FEATURE:
1) Simple structure in linear type, easy in installation and maintenance.
2) Renewable resources could be used for several years.
3) All welding slag is cleared to ensure fence smooth surface.
4) Whole premade chain link fence panels ( or welded mesh panel and frame tube) will be silver spray-painted after welding to protect all welding spots.
5) Customized fence shape or specification is also available.
Application premade chain link fence panels :
Some of the most common uses for chain link panels include high-rise commercial construction sites, home developments, highway projects, storefront renovations, and for any application where the installation of a post-driven fence is not possible or desired.
Loading: